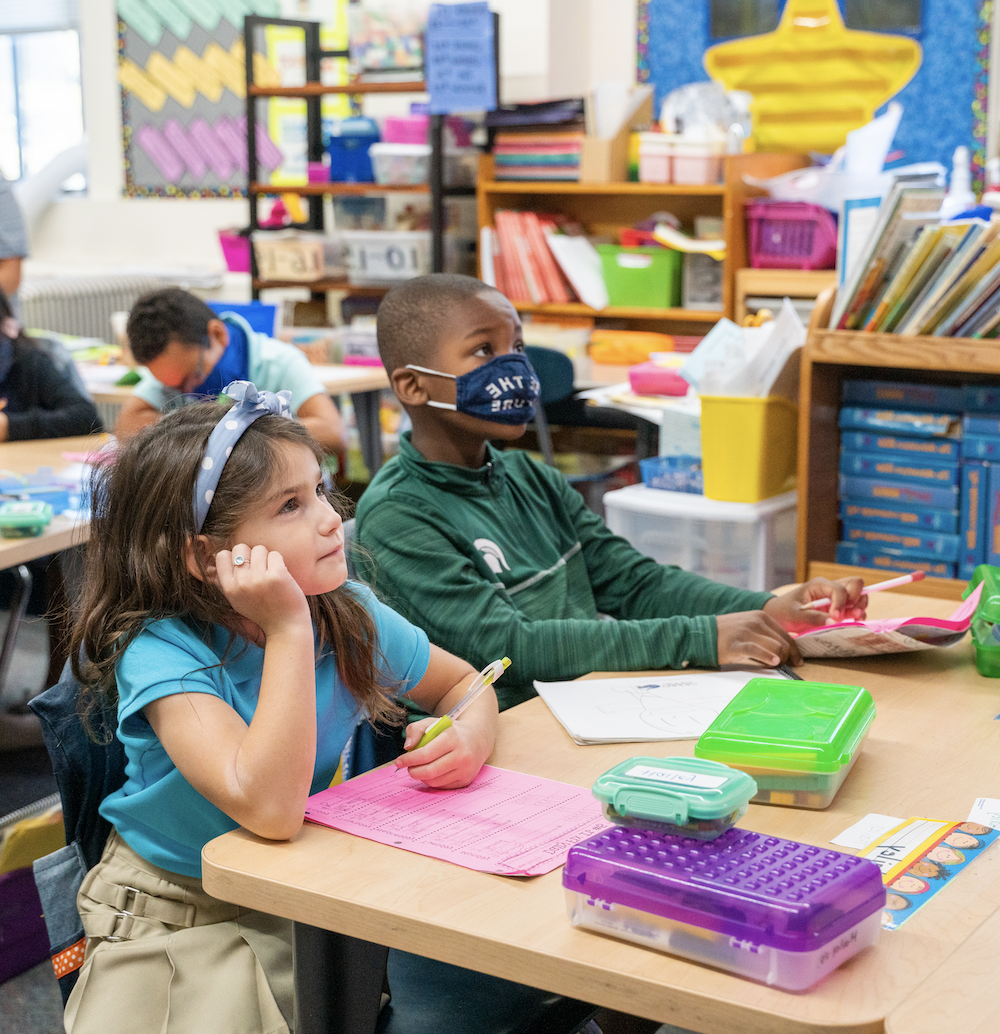 We are excited to welcome over 660 students back to school as we begin our 42nd year!
We are committed to providing our students with a rigorous education in an environment where they feel that they are well known and loved. It is our hope that students will encounter the presence of Jesus, become disciples of Jesus, and embody the kingdom of God. 
As we begin the new school year, there are specific areas of need presented in this Back-to-School Catalog. The items featured are necessary for creating a more robust learning environment. Please take a look at the items listed and consider getting involved in a substantial way. Your partnership is valued and it's what makes this school work. 
8th Grade Math Curriculum
curriculum. This is the same curriculum taught at The Potter's House High School. Middle school students who complete this course will earn high school credit! We will need 35 student textbooks and the teacher edition packet. 
| | | |
| --- | --- | --- |
| Student Textbook | $95 each | 35 needed |
| Teacher Packet | $400 each | 1 needed |
Financial Literacy Textbooks
Seniors will be taking Financial Math classes every day. This Financial Literacy textbook includes life-skill topics such as investment, budgeting, health care, and college planning. This curriculum will highly benefit our students to prepare for adult life after they graduate from high school. We would like to purchase 60 student textbooks.
| | | |
| --- | --- | --- |
| Student Textbook | $10 each | 60 needed |
Second Step is a program that provides social-emotional learning for our students. The curriculum includes teacher-facilitated lessons on body safety, bullying, appropriate touch, relationships/social conflict management, and anger/conflict management. Our middle school students have a weekly designated time period for the Second Step program. It has been very beneficial for our students' social-emotional development, and we would like to extend the curriculum license.
| | |
| --- | --- |
| Curriculum License | $7,800 |
Classroom supplies are one of the most fundamental and basic needs for our teachers and students. Items every classroom needs to make it safe, clean, and student-friendly include antibacterial wipes, tissues, whiteboards, dry-erase markers, pencils, wall-size charts and maps, stickers and reward giveaways, etc.
Teachers often purchase or use their own household things to create a comfortable and inviting environment for students like rugs, lamps, small appliances, storage bins/tubs, shelves, etc.
$250 per classroom teacher
The foyer of The Potter's House High School is filled with country flags that represent our students' countries of origin. The colors are amazing and the pride on a student's face when they represent their country during our banquet processional brings tears to our eyes every time. The cost of a 5' x 8' flag and pole is approximately $100. This year we will proudly add the flag of Taiwan. Also, Some flags are in need of replacement. 
The 8th grade Washington, D.C. class trip is an important mile marker for students. Each student is responsible to raise $500 for their class trip cost. They are able to participate in school fundraisers to earn this fee. The Potter's House absorbs the remaining balance for the trip, and the cost per student is $450 for all 48 students. Parent chaperones must pay the total amount for their trip, and we couldn't do it without them.
| | | |
| --- | --- | --- |
| School Cost | $450 per student | 48 needed |
Our primary goal at The Potter's House is to develop resilient followers of Jesus. Our goal is to help students mature spiritually, so that they can build on that foundation for the rest of their lives. Presenting the Word of God at significant times during their life is an important part of that development. 
| | | |
| --- | --- | --- |
| 4th Grade Discipleship Bible  | $20 each  | 36 needed  |
| 8th Grade Graduation Bible  | $30 each  | 48 needed  |
| High School Graduation Bible  | $50 each  | 68 needed |
Food Service equipment upgrades are required to serve our growing student population. State funding from the free and reduced-price meal program helps to defray some of the equipment and staff salaries but not all expenses or needs are met.
| | | |
| --- | --- | --- |
| Dishwasher(High School) | $10,000 | 1 needed |
| Heated Holding Proofing Cabinets | $4,600 each | 2 needed |
| Mobile Hot Buffet Lunch Carts | $4,100 each | 2 needed |
Church Security Camera Video Surveillance System
School security cameras not only help keep our campus safe, but they help schools deter crime, bullying, and misuse of property. We were able to set up the access control portion of this project in 2019 but we would love to complete the job. 
| | |
| --- | --- |
| All Cameras  | $30,000  |
| Network Wire Installation  | $5,000  |
| Network Switch  | $4,000  |