Songs of Hope: The Story of The Potter's House High School Gospel Choir
HOW GOSPEL MUSIC HELPED A GROUP OF POTTER'S HOUSE STUDENTS OF DIVERSE BACKGROUNDS AND PERSONALITIES FIND HOPE AND BELONGING.
On May 2, 2019, the eleven members of The Potter's House High School Gospel Choir walked onto the stage of the J.W. Marriott ballroom, and led hundreds of attendees of the annual TPH Banquet in stirring songs of praise—some written by choir members themselves. Guests brushed away tears as they cheered for this group of young men and women whose voices blended into anthems of hope and worship. Their performances were, according to many in attendance, the highlight of the entire event.
But, as director Nate Glasper distinctly remembers, the first month of the High School Gospel Choir was "pretty rough." Many students in the choir were new to The Potter's House. By personality, many were shy and reserved. Some had previously been in choirs or music groups; some had not. Nate found that students had a variety of opinions on what "gospel music" sounded like, and some had no exposure at all to the genre. Their first attempts to sing together as a group ended in frustration. Nate worried that they wouldn't be able to gel together into a choir. How had this group of shy, tentative students transformed into a confident, passionate gospel choir in a single school year? Nate's answer is simple: because The Potter's House is a place where hope grows.
Bringing Gospel Music to the Potter's House
The idea of the gospel choir emerged when Development Associate Kent Ezell heard a performance of the Calvin College Gospel Choir, which Nate directs. It occurred to Kent that gospel music, which brings together diverse voices and styles into a chorus of praise, would be a wonderful fit for The Potter's House. He approached  Nate with the idea and invited him to visit the high school.
Nate's first impression was of the multitude of flags in the lobby representing the countries of origin of TPH High School students. "I saw the flags, and I immediately realized, 'this is home.'" He resonated deeply with the vision of The Potter's House to create a Christ-centered community of love and hope for students from all backgrounds. In addition to his work at Calvin, Glasper is the founder and director of Camp Judah, a summer day camp focused on creative arts for youth from diverse backgrounds and cultures. He saw in The Potter's House another opportunity to share God's love with students through music, and signed on to a brand new high school gospel choir.
But after a shaky start, Glasper knew he needed to find a way to unlock the potential he saw inside the students, and bring them together into a family. He interviewed each student one by one, learning their stories and their musical interests. He heard amazing stories of struggle and transformation. He realized the breadth of musical talents in the groups, such as sophomores Baraka and Eli, who both play at least four instruments in addition to singing. He encouraged each students to see the value in the unique gift they brought to the group. When students confessed their lack of self-confidence, he urged them: "Don't say you can't! My students can!"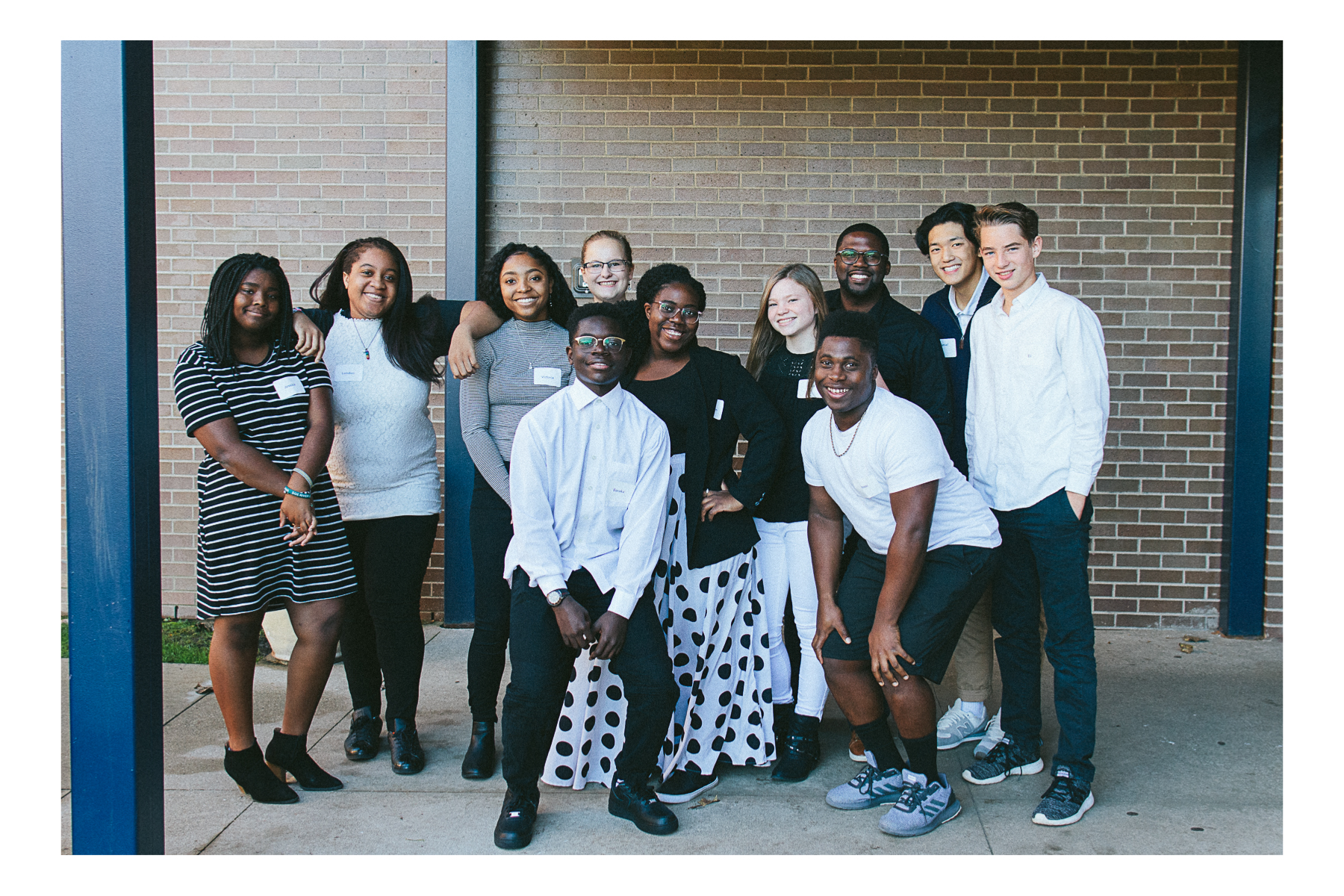 Choir practice slowly became more than a music class. Students began to share openly about the struggles in their lives, and offered support to others. Glasper began a regular "affirmation time" where students specifically encouraged the strengths of others. By the end of the first semester, Glasper had appointed Eli and Baraka as musical leaders of the group, with junior Bethlehem (Baraka's sister) serving as a spiritual leader and vocal coach. The awkward collection of students at the beginning of the year was beginning to transform into a family.
As the year progressed, Ezell and Glasper worked together to book a "tour" of performances in churches, colleges, and nursing homes. For Glasper, gospel music is about sharing hope with others, and he was thrilled they were able to do this in a tangible way. At each stop on the tour, students shared not only their music but their stories. They grew in unity and confidence with each performance.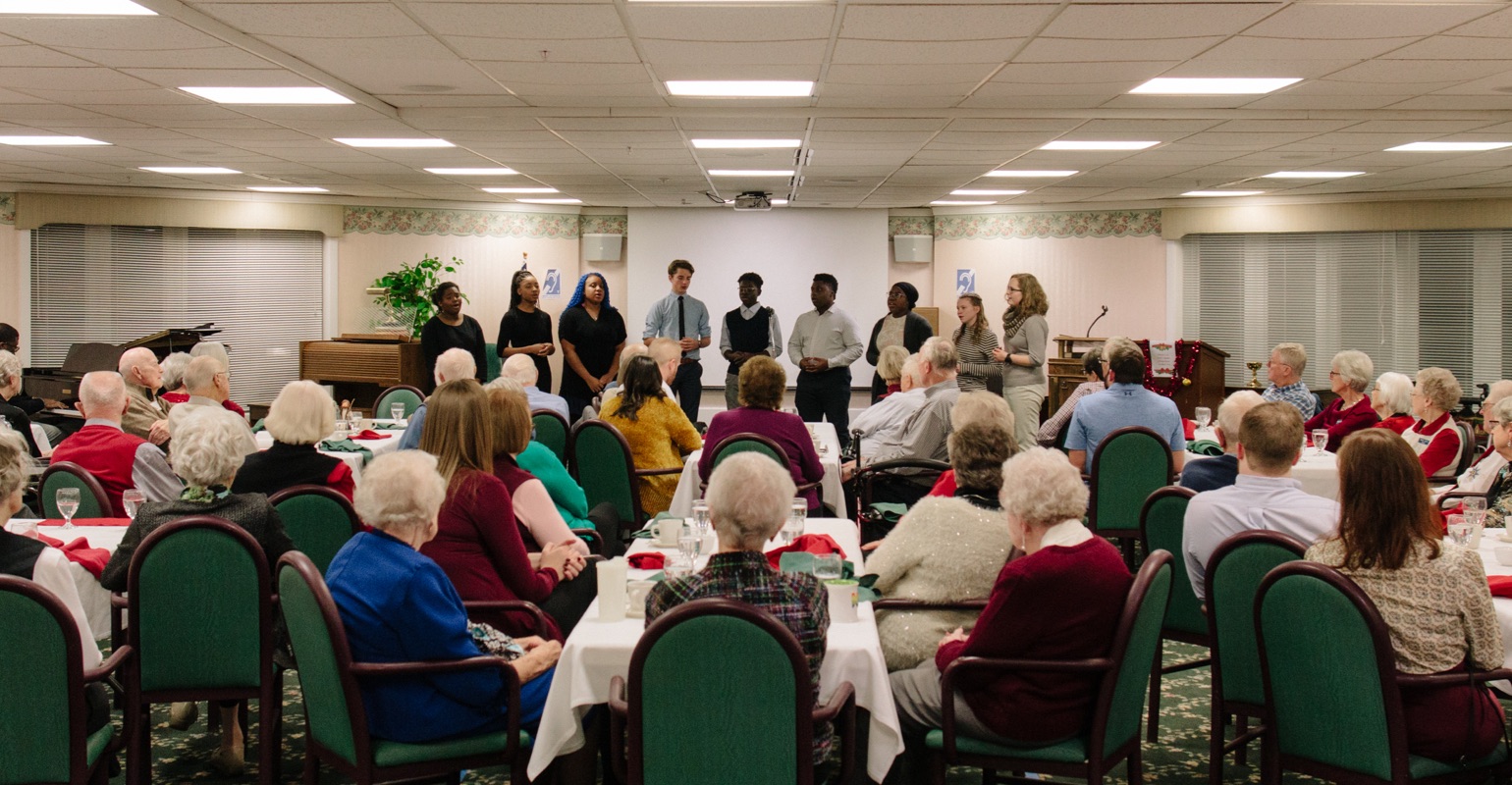 One day at practice, Glasper asked the students, "If your life song was a song, what would the lyrics be?" He encouraged the students to bring a song that resonated with their life story, or even to write a song if they wanted. A week later, Baraka hesitantly told the group that he wanted to share a song he had written. He sat down at the piano and sang a beutiful anthem of praise:
No matter how far I am, you pick me up
When I'm thirsty, it's you who keeps filling my cup
When I'm dirty, it's you who takes me as I am
Jesus I'm thankful
The song marked another breakthrough moment for the group. More songs from other choir members quickly followed. Encouraged by Glasper, Eli wrote a song titled "To Love." "When I was working on the verse of the song, I couldn't figure out what I wanted to say," Eli remembered. "Baraka encouraged me to use a Bible verse as reference. The first verse that came to mind was from Luke 10, where Jesus tells us to love God with all our soul, strength, mind, and heart. So I adapted that into the verse, which says, 'All my soul / all my days / all my heart / all of my ways / all of my strength / all my chance.' Since I wrote the song, God has used those words to speak to me in many ways, and encourage me as I seek to serve him."
Glasper quickly realized that these songs needed to be recorded and shared more widely. He called a college friend, accomplished recording engineer and producer Gabe Carter, who came to the high school and spent two weeks recording the choir in the upstairs athletic closet. Glasper remembers the first moment when the students heard the recordings and realized that they were now songwriters and recording artists. He saw in their eyes an immense pride for what they had accomplished, and gratitude for how God had replaced fear with hope.
"Gospel Choir is a Sanctuary"
This spring, as the banquet approached, the choir members reflected on how the year had impacted them. For senior London, the choir had become a microcosm of the hope and belonging she experienced at The Potter's House. She grew up struggling with dyslexia and mental health issues, which she hid from other people. However, her internal struggles became so severe early in high school—she was not yet at TPH—that she planned to kill herself, thwarted only by a miraculously timed message of prayer and encouragement from a friend. "I realized that there is a God and He wants to help me, but He can't help me when I am closing off my heart," she shared.
London came to The Potter's House the following school year, and found a place of love and acceptance that helped her slowly come out of her shell. The gospel choir, in particular, has helped this happen. "I don't see the gospel choir as a class. I see it as a time I can worship God and fully be myself. What helps me is when we get on stage and I close my eyes. It's just me and God on that stage," she said. "I'm learning to give [my issues] to God more. When it's hard to talk to God, I'll sing to Him. I feel more at peace within myself and at home too."
Victoria, a senior, has had a similar experience. "At performances, I get really anxious and nervous," she confessed. "A lot of my choir-mates have helped me understand that I'm not singing for anybody else—I'm singing for God. If I need to worship him, I can. Even though I'm Performing, I'm not performing for anybody else but Him. I can give Him all of my praise and worship."
Similar themes can be heard from many other choir members. Sophomore Leah, a self-professed "very shy kid," has learned at The Potter's House "to act on the gifts God gave me instead of remaining silent. At TPH I have been able to reach out to all different kinds of people and share the love of Jesus while learning so much from them as well." For her, the gospel choir has opened up new ways to serve God and share her love for God with others. She is now considering a career as a recording artist.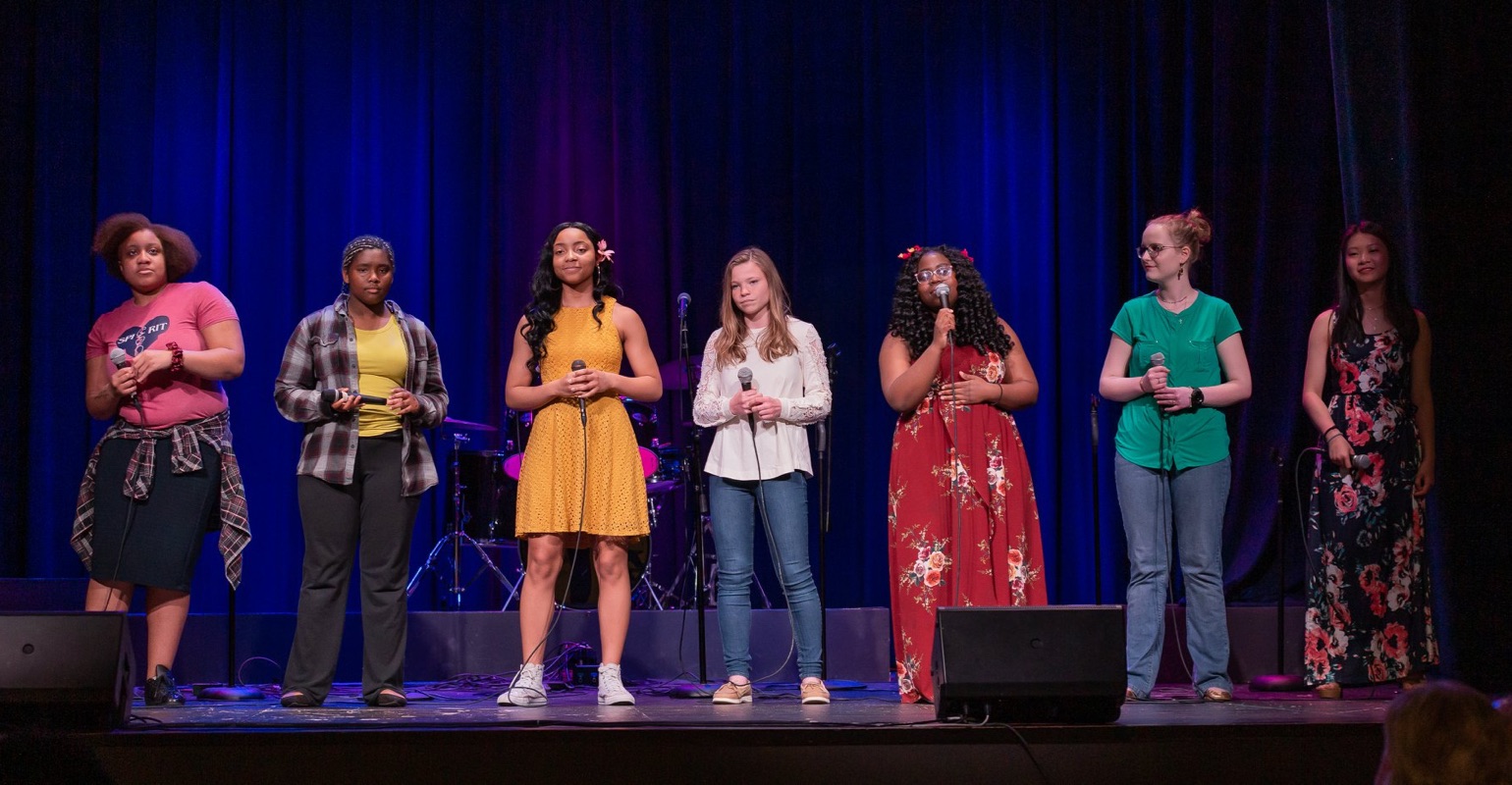 Eli has also experienced a deeper faith through the choir. "This year, the gospel choir has been a big, big development in my relationship with God," said Eli. " I find that gospel music helps me make that connection with the Spirit. I feel like I'm starting to find what I believe and what helps me worship, and I've seen evidence of all members of the choir growing and maturing in their faith."
Many students speak of the choir as a place where they can leave behind their stresses and differences and "just sing," in the words of senior Daniel. "I find joy in singing. I can release and forget about things. Every time I sing I don't think at all. I just sing and I am just giving myself to God." Junior Rebekah reflected further: "The gospel choir embodies diversity.  It's a group of people who are not only diverse in skin tones, but in our grade levels, cultures, personalities, backgrounds, in how we grew up and what we do. This is a group where under no other circumstances would we ever get together and sing." Jessica, a junior, agreed. " I really like the gospel choir here. They accept and respect me for who I am. At The Potter's House, I am just me."
Reflecting in early May, Glasper confessed it was hard to process that this incredible school year was drawing to a close. The deep bonds that developed between Glasper and these eleven students this year have set a high bar for the future of the gospel choir. "I pray that [the students] can take this with them for the rest of their lives, that they will always take that message of hope with them," he shared. "I pray they reflect God's glory everywhere they go; that their words and actions will always be pleasing to Him, and that they will spread hope to everyone."