Running the Race Set Before Them: The Remarkable First Season of The Potter's House Cross Country Team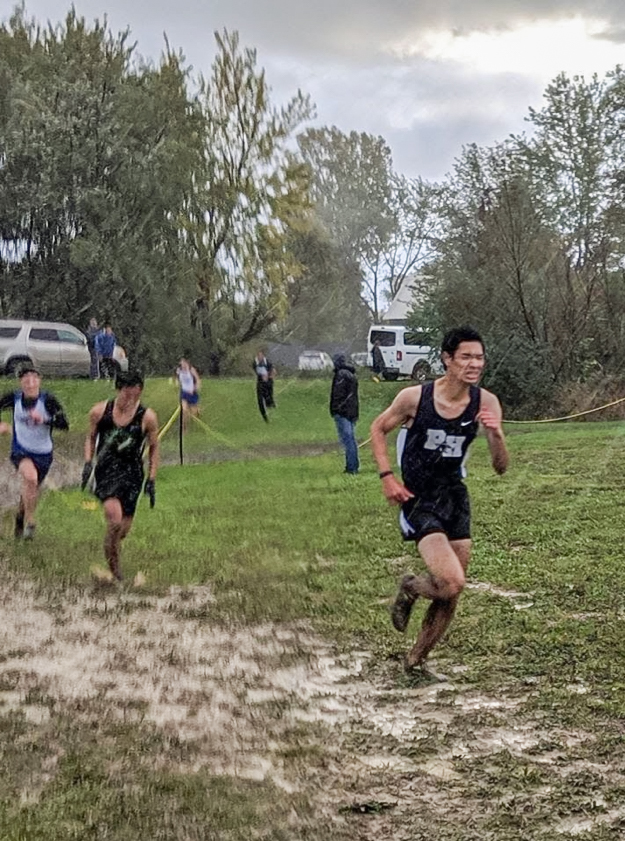 On a mid-October afternoon last year, Luke, a senior runner on The Potter's House cross country team, kicked his feet through several inches of mud, straining his eyes to see through a driving rain. The torrential rainstorm wasn't the only adversity the team faced at the Alliance League Championship meet in Holland. Caleb, the star senior runner, had a schedule conflict and couldn't compete. As they took their places on the starting line, the cross country team knew they needed to give the race every ounce of their energy to have any chance at winning, in the worst conditions they had ever faced. It would turn out to be one of the defining moments of a remarkable season.  
Last year, Athletic Director Kara Haskill began dreaming about the possibility of adding a cross country team at The Potter's House. Haskill is a big fan of sports that are accessible to students of any level of athleticism or background. "Running is a very inclusive sport," she explains. "Anybody can run; it doesn't matter your size or height or experience. It's a good way for both genders to be social and get some exercise." The challenge for Haskill was to find someone with experience leading cross country programs who could get the program off the ground. One name rose easily to the top of her list: Kris Koster. 
Koster has a long history of connections with The Potter's House. He filled a long-term substitute teacher position in 2009, and has stayed connected with the Potter's House through many kids at his church's youth group. Koster has an impressive resume, to say the least: ten years coaching cross country and track at Grand Rapids Christian Schools, and five years as head coach of the cross country program at Kalamazoo College. 
Last March, Haskill sent Koster a Facebook message, asking if he would consider coaching the first season of Potter's House cross country in the fall. Koster admits he rarely checks his Facebook messages, but providentially, his phone app had just updated on the same day Haskill sent the message, which prompted him to open the app. He responded enthusiastically to Haskill's request, even asking if he could help with the track and field team in the spring, on a volunteer basis, to get to know the students. Koster quickly became a constant presence at the school, known just as much for his depth of running knowledge as his personal care and concern for each student athlete. 
Cross country is the all-terrain version of traditional track and field. Competitors run in a large group for several kilometers (often a 5K) on a grass-and-dirt path. Koster, with co-coach Andrea Lubberts, charted out a course at a local park during the summer and invited Potter's House students to run with them each morning. The morning runs quickly attracted a large number of students, and by fall the team had a full roster for boys and girls teams, at both the high school and middle school level. 
In cross country meets, points are awarded based on the performance of the whole team. For schools to succeed, they need to be able to work together as one unit. Koster and Lubberts worked to develop the students into a supportive, encouraging community. Cross country is unique among Potter's House sports in that, while students ran different races based on their gender and whether they were in middle school or high school, they often practiced as one group. As Koster explains, the coaches challenged the older students to see themselves as mentors to the younger runners: "[I told them that] giving encouragement and instruction to the younger kids is your goal. You're a role model, and for them to hear just one word of encouragement or a smile or a high five from you, that can get them through a whole week, because running is not the easiest thing." For Lubberts, it was a joy to watch them step into that leadership role. "The older students took that on as a responsibility and a point of pride," she explains. "They would help the younger runners warm up if [the coaches] were busy, making sure they were getting where they needed to be on time." 
"You don't have to be a good runner to be on cross country and that's what I loved about it," explains Esther, a junior. "For other sports you have to be good to be on the team, otherwise don't even show up to try out. But with cross country…I just love how it's so open, and it's just a really good community." Caleb, a senior and indisputably the team's best runner, echoes this sentiment. "We care about each other, we sacrifice our desires for the benefit of the family, the team. This is a close-knit group of individuals that came together for a common goal," he insists. 
Caleb recalls a sense of joy in watching each teammate run faster and further than they ever thought possible: "Whenever anyone would say, on our team, 'I'm gonna beat you next race,' my response to that would always be, 'I would love to see it.' And I actually meant that. Because it's not about you, if they're beating you, they're running faster than they have ever run in their lives. If they're better than you, that just means our team is better as a whole." 
According to both Lubberts and Koster, the close-knit feeling in the cross country team did not come without challenges. "Running is such a mental game, that if there's stuff that is messed up on the team, then everybody suffers as a team," Lubberts believes. Koster recalls one week where relational conflicts threatened to split apart one of the teams in advance of a key meet. He approached the students to see if mediation was needed, only to discover that the students had already worked out their differences on their own. "We really prayed about that stuff a lot and we felt God's hand," Koster says.  
The coaches started every practice and every meet with devotions and prayer, which became a key ingredient for team unity. As Lubberts relates, "There were opportunities that students took to pray for each other. It was really cool to see them grow in that, and then they would always pray for their races as well." 
All the teamwork and preparation were put to the test during each meet, and especially during the muddy, rain-soaked Alliance League Championship. Luke remembers the race as a blur of cold and wet and exhaustion, propelled only by the thought of supporting his teammates behind and ahead of him. In the end, The Potter's House team finished only six points behind the leader, despite missing their best runner. Other coaches approached the team and remarked about how impressed they were by the toughness and resilience of The Potter's House runners, even down to the middle schoolers. Caked in mud up to their calves, the team celebrated an amazing effort. "It's definitely one of my best memories," Luke says. "Even though we didn't win, we worked together as a team through the conditions, and we still did well."
It wouldn't be the last time that The Potter's House team would make a statement. Both boys and girls middle school teams won the Alliance League title. The high school boys placed second in the Alliance League, won first place as a team at two other meets, and secured a Division 4 Regional championship. At the state finals for their division, the high school boys placed sixth, with Caleb finishing 11th in the entire state, earning All-State honors.
For Koster and Lubberts, the most important part of the season was not the awards and trophies but the growth of the students as young men and women. They believe running cross country is full of important lessons, especially for young people. "For anyone who's ever tried to run a 5K, it is not pleasant in the way going sledding is pleasant," Koster explains. "You just have to keep running a little bit every single day and that's how you get good at it. It's an extremely satisfying thing, especially in a culture where it just seems like things move more and more into instant gratification." 
Lubberts echoes: "When you have major differences in opinions, or character, or personalities, how do you work through that? That's hard work. But a cross country team falls apart if you don't work through those things. Working together, the community piece, I think is valuable going forth into all different areas of your life." She sums it up: "It was so cool to see them learn to take care of each other." 
Photos courtesy of Kris Koster, Andrea Lubberts, and Paul Hart