Senior Spotlight: Bethlehem Shekanena
My parents are immigrants from the Democratic Republic of Congo. We lived in Colorado before moving to Michigan in 2008. I came to The Potter's House (TPH) in 3rd grade. It's a smaller school than my previous schools and you get to know each other better. The sense of community and student life is awesome. I believe it is one of the best schools to which parents can choose to send their kids.
I've always been a leader, and over the years TPH has helped to hone my leadership skills. In elementary, Mr. VanZanten was a fun teacher and we could tell that he loved teaching. He pushed reading, but brought in other things to promote learning. He believed in us and made sure that while we were learning we were also having fun. 
In high school, Mr. Clark [current HS principal and former Dean of Students] noticed potential in me as a freshman and believed that I would help lead the school. I was given opportunities to serve as praise and worship leader for the student body and to help lead the gospel choir. This school year I was elected student body president and am proud to say that I have kept all the promises I made during my campaign.
Thanks to TPH, I have been broadened as a person, as a Christian and as a leader. With the opportunities I've been given, my people skills have improved and I am able to see things from different points of view. I've learned that there are always going to be issues, and I have grown in the area of conflict resolution.
I've always envisioned myself in the medical field working with children. As I researched careers in this field, midwifery surfaced, and I realized it was exactly what I wanted to do. This career decision was confirmed when I traveled with my family to Burundi in the summer of 2018, and met my great-aunt for the first time. I was ecstatic to learn that she is a midwife. She said to me, "You have to promise that you will become a midwife and come back to help us." Having her ask me and hearing about the hardships she's encountered over 40 years, without much equipment, has motivated me even more.
After graduation, I plan to attend college and become a midwife. I'd like to initially work in inner-city neighborhoods and then go to developing countries to train other women. One of the first countries on my list is the Democratic Republic of Congo.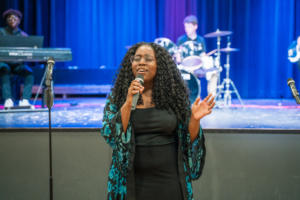 Pictured: Bethlehem performing a solo at the Night of Worship high school concert.